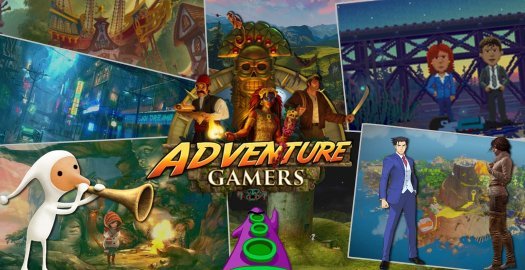 So 2022 is now upon us, and if you're anything like us (and if you're here, you are), then your New Year's resolutions probably look(ed) something like this:
Lose "a few" pounds
Call Mom and Dad more often
Spend less staring at my phone/TV/computer (except for visiting AG)
Start exercising – again
Get more involved
There's nothing we can do about the first four, unfortunately, so you're on your own there. But if you're serious about #5, then a great way to make your free time more worthwhile is by contributing to Adventure Gamers!
With the ever-increasing number of new adventures released every year (and showing absolutely no signs of slowing down), it takes a LOT of people to keep AG running efficiently, and will take even more if we're to achieve all the site's own resolutions for 2022: more and faster reviews, additional user enhancements, improved performance, and so on.
So to get the year off on the right foot, let us help you help us! (Or something.) It's win-win for everyone!
Below are just some of the ways you can participate, regardless of how much skill or time or money you have. All it takes is the willingness to share in whatever way you're able. (All positions volunteer, except where indicated.)
If interested in joining our staff, please email AG editor Jack Allin at [email protected] to discuss how you can become more involved.
Financial backing
We promise we won't keep harping on this (and a heartfelt thank you to those who have already generously donated), but in case you missed our previous article, first and foremost we're in need of more funding in order to keep operating at the level you've come to expect. A couple years ago, we launched a Patreon page for donations, and the response we got was tremendously encouraging. Unfortunately, some of that initial support has since waned (as has our advertising and affiliate revenue) while our expenses have not, so we'd once again like to draw your attention to this very crucial aspect of maintaining the site. We hate asking for money, but it's a necessary evil and every little bit helps! This is shaping up to be a make-or-break time for us, so your support is more valuable now than ever.
Marketing specialist
Rather than rely solely on private donations for financial support, we're also looking for someone to help maximize AG's revenue opportunities, whether through making direct advertising deals, implementing relevant affiliate sales, coordinating other fundraising events, and so on. Potential for remuneration as a percentage of income generated.
Writers – lots and lots of writers
Written news and reviews and other genre-related feature content will always be the bread and butter of Adventure Gamers, so the more quality writers on the team, the better! You don't need to be Shakespeare or Hemingway to qualify, either. So long as you've got a good grasp of the adventure genre and an ability to articulate your experiences thoughtfully and respectfully, we'll work with you to smooth out any rough edges.
Prior writing experience is certainly a benefit, but no need for a written sample if you have none available, as we'll focus instead on an original new trial article with our guidelines in hand.
Oh, and did we mention the free games? We supply the adventures, you supply the ink!
In particular (but certainly not limited to), we'd love people with an interest in the following areas:
Roleplaying  hybrids
Myst-style puzzlers
Horror games
Platforming adventures
VR games
Outside of reviews, we're also looking for those with an interest in new game announcements (much shorter pieces with shorter deadlines to match) and interviews. Less writing, but no less valuable!
Walkthroughs (ideally of the written variety)
We have started to build up a catalogue of walkthroughs, but there's a long way to go to provide the kind of coverage we're looking for. Written walkthroughs are our top priority as they're a huge boon to the site, being consistently among the most-visited pages available (we've all been there!), but video walkthroughs are welcome as well. Either way, we'd love to host your guides! Full credit will be given, and videos will link directly to your own channels, so no traffic lost, just added exposure. New games are of course the most relevant, but older game walkthroughs are welcome too, particularly with the classics continually being ported and rereleased for new generations.
Daily news headlines
Staying on top of adventure game news is a daily part of what we do, so we'd like to construct a team of people to coordinate the research and posting of headline news and links each day, along with related internal tasks like uploading trailers, screenshots, etc. No significant writing involved, just a firm commitment to the cause on your assigned day(s). The more people there are involved, the less work all around!
Video creators
Even beyond video walkthroughs, we're looking for unique genre-related content that will be of interest to the AG community. Whether you're just starting out or an experienced videographer willing to align your own channel with Adventure Gamers to benefit us both, we'd love to hear from you! 
Pitch your own project
While the categories above are our traditional areas of need, by no means are they exclusive! We're always eager to hear about promising new ideas to expand our coverage in interesting ways. If you're working on your own adventure-related projects and having trouble gaining an audience, why not align with Adventure Gamers and benefit a much larger community? We're open to any and all suggestions. Not all will make the cut, but yours might!
Public Information and Resource Support
Even if you can't take on a formal role with AG staff, bear in mind that everyone can still be part of the team. Playing a game with a small screenshot gallery? Snap away and send us your pics! See outdated/incorrect information on our data pages? Tell us about it! Hear about a new game we haven't announced on the site? Let us know! The bottom line is, if you know or have something we don't, share the wealth! Like any community, things work best when everyone participates whenever and however they can. We're willing to do the work, but anyone can help make our jobs easier.
You can email Jack directly at [email protected] or use our contact form to submit your questions and information.
 
---
Why volunteer?
Good question, because make no mistake: staff positions here may be volunteer, but there is real work involved. If AG seems to function like a well-oiled machine, that's only because of all the blood, sweat and tears that goes into it behind the scenes. But the benefits of a job well done far outweigh the investment! Not only will you get to be a part of a dynamic team of fellow adventure enthusiasts (join our staff forums, vote for the Aggies, get some free goodies and more!), you'll have the satisfaction of knowing your efforts are enjoyed by well over a hundred thousand readers around the world each month. (Looks good on a résumé and letters of recommendation, too! And those will be gladly provided.)
If you have any questions, feel free to ask. Thanks in advance to all those who express interest. Happy adventuring, everyone!